Life At Vega IT
Reconstruction of Our New Building: Phase #1
Tijana Popov
Categories: Life At Vega IT
Date 12-Feb-2021
3 minute to read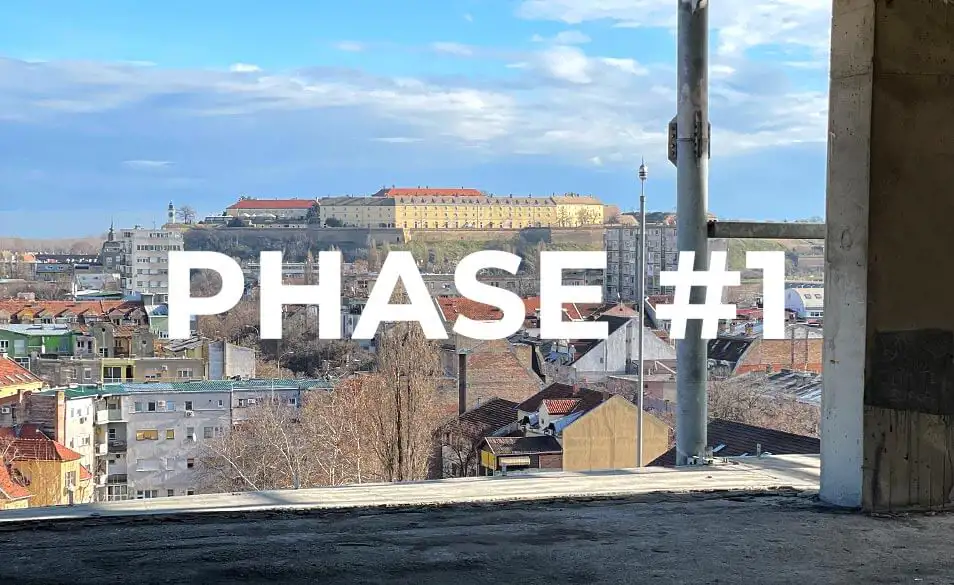 At Vega IT, the rollercoaster of 2020 finished on a high note: We have purchased another business property.
Our new investment is a symbol of Novi Sad which was almost destroyed in flames 20 years ago.

The Building of Radnički Univerzitet in Novi Sad
We are proud to announce that the first phase of reconstructing our new building has begun. To learn more about the current activities we spoke to our colleague and CEO Saša Popović.
Saša, the news about purchasing a new building has really caught everyone's attention in the city. Why do you think this happened?
Saša: I believe that there were many factors that made this news spread instantly and trigger positive reactions among people. A large number of our citizens went to that building before it was almost destroyed by fire and they have nice memories from that period. The building is located in the center of the city and was one of the symbols of Novi Sad mainly because it was one of the tallest buildings in the city. Unfortunately, this building has been an eyesore of the city for the past 20 years.
When we were students, Vladan and I saw from our university dorm's room how the upper floors of the building were caught in fire and felt very bad because of it. I believe that other fellow citizens felt the same way and that was one of the most important reasons why they were so excited by the news that one IT company will reconstruct the building and make it a symbol of the city one more time.

Saša Popović, CEO of Vega IT
Although we have only recently become the owners of the building, have we come up with the first steps we will take in the process of reconstruction?
Saša: We have created an architecture tender to come up with the best possible solution for building a facade of the "Radnički" building. We invited some of the best and highly awarded architectural design offices from Belgrade and Novi Sad. To be more specific, these include:
Kuzmanov and partners from Novi Sad
Zabriski Studio from Belgrade
Remorker Architects from Belgrade
Synthesis Quatro from Novi Sad

The view of Novi Sad from our new building
The winner will get a chance to further develop their idea, and the rest three offices will receive consolation prizes. All four offices gladly accepted the invitation to participate on this project. They will send their solutions by the 10th of March. We plan to announce the winning solution as well as the rest of the three other solutions publicly once the tender is over.
In parallel with this tender, we are actively working on other important projects necessary to turn this idea into reality and make this building serve its purpose. Once all the projects are finished and we get all the necessary licences, we plan to start the reconstruction.
Why did you opt for a closed tender (of an "invite only" type)?
We liked the idea of this kind of tender because, in this way, we have the opportunity to see a few interesting solutions since we have more teams working on it and practically competing.

The reason why we decided that this should be a closed tender is only because we wanted to dedicate enough time to each team which participates in the project in order to get the best possible results.
We had a few meetings with each of the four teams - we went through the building and analysed all the things we need to pay additional attention to. Simply put, if it had been an open tender, we would not have been able to do all that with a large number of teams.

On top of that, we wanted to award or at least cover the expenses of all the teams who took part in the tender. We also, mainly for practical reasons, would not have been able to do that or at least deal with it in the way we have done it so far if the tender was of an open type.

Reconstruction of Radnički building has started
Finally, what are the plans? Are we moving to the new building?
Saša: We have big plans for further growth and development of Vega IT so this reconstruction of "Radnički" building will help us turn these plans into reality.
We plan to maintain the current business space (5 floors "Aleksandar Bulevar Centar" building), which is also in our ownership, and to further expand into the new "Radnički" building.
Probably some of our daughter companies will move to that building once the reconstruction draws to an end.
Stay tuned and see what the winning solution of this design competition will be!