Life At Vega IT
Coding Month at Vega IT: Coding Dojo
Tijana Popov
Categories: Life At Vega IT
Date 08-Oct-2020
3 minute to read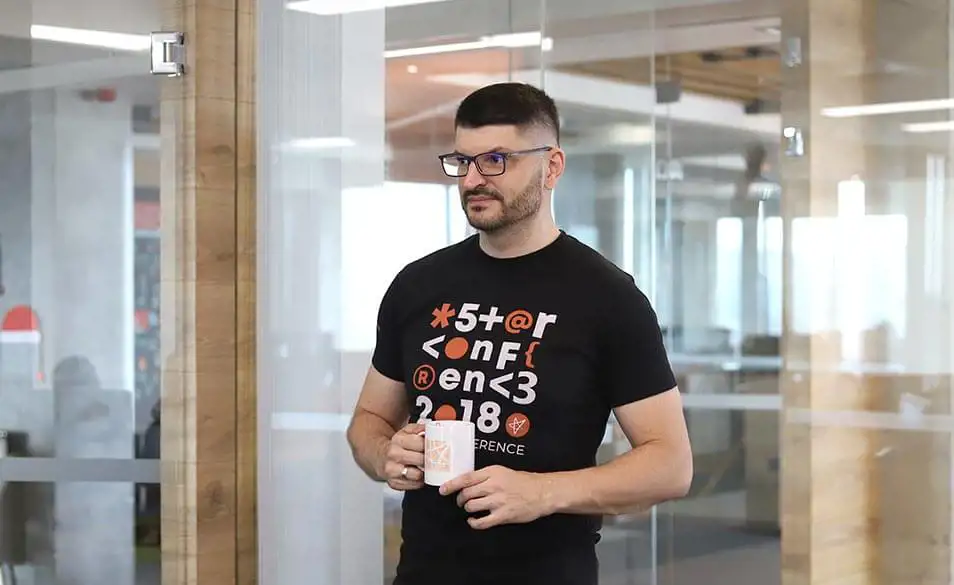 Why is knowledge-sharing one of the essential pillars at Vega IT?
We believe that encouraging our colleagues to adopt new skills and further their existing knowledge is crucial in creating more agile teams. By sharing knowledge with others, our colleagues become more confident in their expertise.
Throughout the year, we encourage them to take part in various knowledge-sharing events we organise at Vega IT. One of the most popular coding sessions at our company is the Coding Dojo workshop led by our CTO Boban Mikšin.

Boban Miksin at Coding Dojo workshop 2020
We asked Jovan, Anica, Lazar and Luka to share their impressions of this year's Coding Dojo. Here's what they've told us:

Jovan Vučetić, Software Developer
Coding Dojo is truly one great workshop, which enables our colleagues to improve some very useful skills like Test Driven Development, writing clean code, pair programming, and alike through relatively easy tasks.
I would recommend all of my colleagues to attend this type of a workshop regardless of their experience and their favourite technology.
Anica Šutić, Software Developer
Once the workshop started, we got the mail with the assignment we had to work on. That was the assignment I had already done, but it was great to do it again. This time I saw it from a different perspective because of the comments that I previously got.
I got on well with the colleague I was working with on this assignment. Every time we thought we had successfully accomplished something, Boban turned up like Superman and gave us such a simple explanation of some part which we made much more complicated than it actually was :D
All in all, this was a really amazing experience, and I would advise everyone to give it a try!
Lazar Đorđević, Software Developer
I'm really glad to have applied for Coding Dojo, because I expected to have a good time and a chance to meet new people and work on my coding dojo skills. And, I must say it was beyond my expectations.
I thought it was really cool to have the opportunity to do pair programming with a colleague who I met back then, who was really sociable. We understood each other really well from the very beginning. It's really great that Boban often came to us to see how we were doing and gave us excellent feedback on our progress as well as instructions on how to move on with the assignment.
At the end of the day, he showed us his solution to the assignment, and it was amazing. It helped me see some new ways to implement a solution. All in all, I would recommend Coding Dojo to everyone, because it helped me gain more experience and spend quality time with my colleagues.
Luka Nikolić, Software Developer
When the workshop began, my partner Valentina and I discussed what we would work on and how. I liked this way of working because it allowed us to reach decisions together and realise them through coding.
Boban checked on us from time to time and gave constructive and useful tips. The way he advised us and explained the tips through examples helped us a lot, and made us think about things, and view them from a different perspective.
After a few hours of typing, having lunch and two cups of coffee, Boban presented his solution to the problem. He went through his code and explained a few key things to us as well as how and why he implemented some things in a specific way.
I believe that, besides a great working atmosphere and a chance to meet new people, I also learned a lot. Apart from technical knowledge I gained, I also realised how important communication and teamwork are.
I hope there will be even more of this kind of workshops, and I am looking forward to new challenges that await us.
What Other Opportunities for Sharing Knowledge Do Our Colleagues Have?
Besides holding internal lectures, our colleagues can lead technical workshops, become one of the speakers at internal conferences or speak at the external conferences we organise. The latest one was "We are the IT City" online conference where we talked about myths in the IT industry. If you still haven't seen it, we suggest you check it out.
Currently, we are preparing our next online event, so stay tuned, follow our updates and don't miss out on the opportunity to find out everything you want to know from our experts. ;-)
And, remember:
Unless you try to do something beyond what you have already mastered, you will never grow.