Corporate Social Responsibility
12 Days of Giving: Winter Wonderland
Tijana Popov
Categories: Corporate Social Responsibility
Date 12-Dec-2019
3 minute to read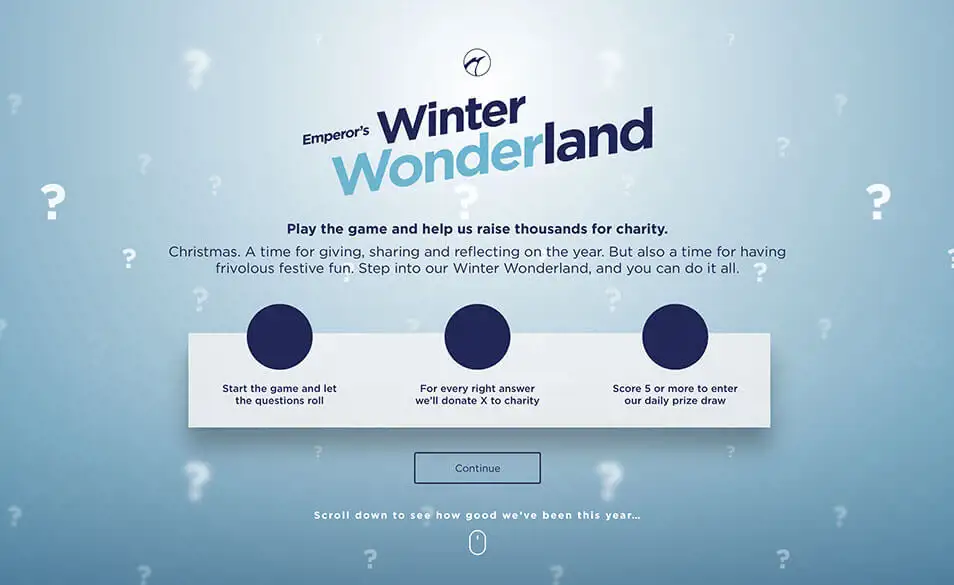 What do the upcoming holidays mean to you? For us, it's time for sharing and giving. Time to reflect on the year that's ending while planning next year's goals. Time to reconnect with dear people in our lives.
It's also time for light-hearted festive fun! ;-)

Become Santa's little helper!
This year, for the third time, we have joined our partners from Emperor agency in order to embrace the true Holiday spirit.
What We Have Prepared This Year
Excited to find out what this year's project is about? We hope that you like games because we have one special game for you!
We invite you to step into the Winter Wonderland, play our game and help us raise money for the Emperor Foundation.
Here's what you can expect:
Start the game and let the questions roll 

For each correct answer, £1 is donated to charity on your behalf

Score five or more correct answers and enter the daily prize draw
Our partners' charity foundation supports causes that have specific resonance for extended community and tackle issues such as cancer care, children's health and support for people affected by dementia.
Why Are CSR Projects Dear To Us?
The drive to make the world a better place is strongly embedded in our company culture. It's what pushes us to be more successful and use our company's success for worthy causes similar to this one.
Did you know that this is our company's vision? ;-)
Throughout the year, we organise and support many socially responsible causes. We are proud that we have the opportunity to do so.
What pushes us to continue with our activities is the direct impact of the positive changes we can see afterwards.
Our biggest CSR projects are:
"Code for a Cause 3"- a 48-hours long hackathon where programmers work on developing software solutions for NGOs and public institutions. This year we have worked on developing 11 custom solutions. A few months ago, we received an award from The Chamber of Commerce and Industry of Serbia for this CSR project.
"GreenIT" - a green hero project whose goal is to create a greener city. Together with 15 IT companies and more than 100 eco enthusiasts we have planted 86 trees in the local primary school. 
Our plans for the year 2020 are even bigger, so stay tuned.
We hope that you will enjoy our Winter Wonderland game and that you will take part in other socially responsible projects as well.
Good luck and let us know what your score is! :-) Happy Holidays!