Life At Vega IT
A learning organization
Maja Neducic
Categories: Events
Date 08-Nov-2017
3 minute to read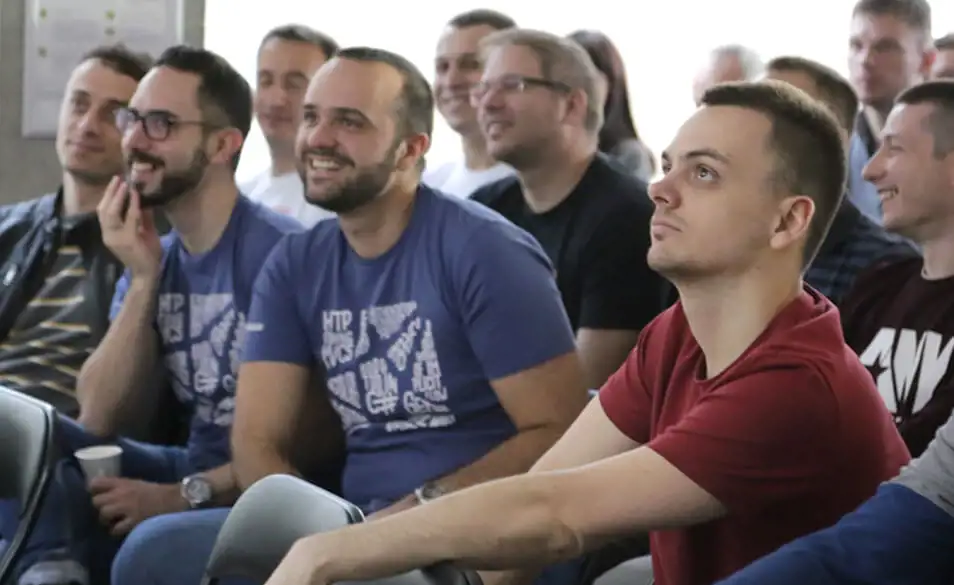 Our motto is "A learning organization".
Our colleagues reflect our values which we keep investing in – paid trips to conferences, seminars and internal trainings, books, internal education, soft skills workshops and the like.
However, we strived towards doing something more for all of us, which led to the idea to organize the STAR conference.
Our main drive was to provide our colleagues with the opportunity not only to attend lectures, but to hold them and/or be a part of the organization of the said conference. The conference was organized solely for our colleagues and involved only the people employed in our company. Our idea was: Colleagues for colleagues.

Our colleagues - speakers
What did this mean to each of us/our colleagues?
to the lecturers: practicing public appearance and simulating lectures at a real conference, in front of a well-known audience, together with doing something that would benefit their colleagues – knowledge-sharing;
to the organizers: adding "organizational troubles" occurring in organizing a big event to their everyday life and standard job description, at least for a while, and applying their ideas in practice. At the same time, they also worked on putting the needs of others above their own needs;
to the audience: having the opportunity to expand their knowledge as well as to get to know the people they work with better, having fun and active participating in certain lectures.
to the company: in our case – implementing all 5 of our fundamental values.
Impressions about the conference
Our objective was to provide all our colleagues the chance to work on personal development – whether it came to public appearance or perhaps developing some soft skills. This conference was a great starting point and an ideal opportunity for each of them to share some additional knowledge – some discovered what they needed to do, some realized that the roles of lecturers suited them better than they had known, whereas some realized how onerous it is to organize any kind of event… The most important thing was – everyone had a great time!
Miroljub Enjaković, lecturer: The STAR conference was a great opportunity for everyone from Vega to give themselves a try in playing the role of lecturers and organizers of the conference, and I must say I am truly pleased that I took advantage of this opportunity. I feel happy for each mistake I had made during my lecture, because I know that I can't succeed at something without committing numerous errors on my path towards excellence.
Adrian Jakšić, participant: The atmosphere at the conference was great, no lecture was delayed and the organizers devoted themselves to each and every detail. I heard a lot of interesting things and topics that intrigued me further. I am definitely looking forward to the next event of this kind.

Want to know the recipe for a successful conference? It's very simple - people.
After working with you, no one can tell me that I haven't touched the STARS!