Life At Vega IT
21 Day Challenge: Did We Create New Habits?
Uroš Gostović
Categories: Life At Vega IT
Date 23-Feb-2022
3 minute to read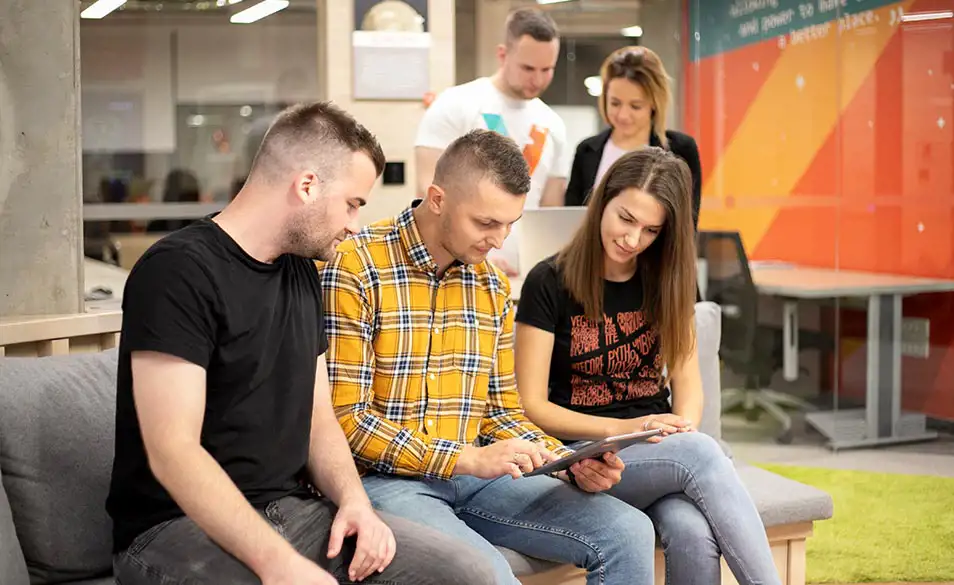 Traditionally, February is reserved for our 21-day challenge, during which we are trying to create new and positive habits. As always, we all wanted to become the best versions of ourselves, and this year was no exception!
Changing our old habits is challenging and requires a lot of discipline, good strategy and a support system. Combining these three things is definitely a recipe for success.
For us, this challenge proved to be a great way of doing something good for ourselves, and we hope it will keep us motivated throughout the entire 2022. :)
How To Create New Habits and Stick to Them?
The first step in this process is writing down your challenges, habits you would like to change as well as the list of the new, better habits you want to create. After you have clearly defined your goals, you need to divide them into steps - 21 to be exact.
To help our colleagues monitor their progress, this year we created a calendar where they can write down their goals and steps to keep them motivated over these 3 weeks. During the whole challenge, we encourage our colleagues to stay focused on their goals by sending them funny and motivational quotes. After all, the main goal of this challenge was to stay positive and have FUN.

21 days to create a new habit
This year, our colleagues set up very interesting goals, and we are sharing this year's top 5 challenges:
Walk more and use the stairs instead of the elevator
Drink less coffee and more tea
Read more books
Do not use bad language and be more polite
Work out three times a week
To find out how this challenge affected our colleagues in a positive way, we asked a few of them to share their impressions with us:
"Since I suffered from Covid (double pneumonia) the first time, after doing athletics for 20 years, I was forced to stop my training sessions, which made me feel really bad. And, then February started and the 21-Day Challenge which is what I needed and was waiting for. It is surprising how my personal plans perfectly matched with the beginning of this 21-day challenge. So, everything I planned was now also clearly presented in the Excel table, where more important factors, dedication, strength and willingness, were also added to the table. This helped me fully dedicate myself to regular training every morning, five times a week, which, prior to the challenge, was a mission impossible. So, it was all worth it, and I achieved my triumph." - said our colleague Dražen Gajić.
"I have always wanted to wake up earlier and work on myself in the mornings (meditate, go to the gym, learn). During the 21-Day Challenge, I relatively managed to get up on time. What I liked the most is the sense of belonging and using our mutual strengths to break up with the old habits because I knew that we all are in this together. During the challenge, we could also exchange experiences with our colleagues which motivated me even further to work on creating a new, better habit. I managed to work out 5 times a week because I had my own private trainer, and the other two days I would leave my gym equipment somewhere where I could see it as soon as I got up in the morning. This made me keep my promise that I will keep working out during the challenge. In the following period, I plan to wake up early as often as possible and one way to do that is to put the alarm clock in the other room so that I would have to get up from my bed and turn it off when it starts ringing." - said our colleague Nikolina Belić.
"During the challenge, I got used to using the stairs instead of an elevator. However, I failed to achieve my other goals, which I feel sorry about, but… Of course, I will not stop with these new habits, I will continue to practice them whenever I can. The girls who work behind the counter at the company's entrance gave me the key to the fire door and fire stairs which I can use in the future. So, there are no more excuses — I will keep on using stairs for the time being. And, I really like it…" - said our colleague Gordana Puškarević.
​​Once again, we proved that together we can definitely achieve more!
Together we managed to take our old habits, turn them into something positive and create better versions of ourselves. Congrats to all of you who took part in this challenge and we hope your new habits are here to stay!