I woke up early on Sunday morning, March 20th and was so excited because I realized that it was the day of Charity IT relay race. The same day was international day of happiness. This cheered me up even more, because what is the better way to celebrate the international day of happiness than to race for a good cause - children's smile.
It all started few weeks ago. My colleague Nemanja and I were talking about this charity event "The race for children's smile" and we decided to support the event and organize a race: "Charity IT relay race - 4 x 1100m."
We invited all IT companies from Novi Sad to participate in this event and 15 IT companies have decided to support the event and join the race.  A Big thanks to Eipix, RT-RK, Eton Digital Ltd., Nordeus Belgrade, COING, Sixsentix, Levi9 IT Services, NovaLite doo, Prozone, Zesium mobile, Schneider Electric DMS NS, KEBA doo and Geekstone for joining us!
My colleague Maja and I came to Kamenički park at 10am. There were already 200 people over there, and they continued to come. More than 600 people were there to race at the end of the day.
We picked up starting numbers and made a list of the names of all runners. Everybody came on time, and Kamenicki park was full of IT people in few hours. Every runner got a Certificate of Appreciation and a medal.
Ready, steady, go!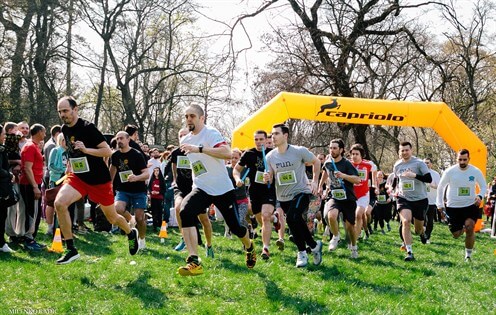 184 runners organized in 46 teams started the race. It was amazing.
Just a few minutes after the start the first one came to the finish line, and it was one of teams from the RT-RK company. The second one was the team from Zesium mobile company and the 3rd one was Levi9. Vega IT was 4th.
The race was really intense and everybody was giving their best to come to the finish line. Everybody was the winner at the end because it was not about winning or losing… It was about enjoying life, happiness, having fun and supporting the ones who need our help.
One of the guys from other company suggested for the next year event, that we should organize separate male and female race as everyone would have the same chance to win.
We will definitely consider it and let you all know in February 2017.
We collected more than 300.000 RSD and we agreed to donate goods like TVs, carpets, curtains and other necessary things in that amount to the Safe House Novi Sad.
Thank you all one more time for participating and supporting this event and we will do our best next year.